Ours is a young profession. True Supply Chain Management can be traced only back to the mid-1980s for its origins, and it did not really take off until the late 1990s. Even today we are still creating and experimenting with organizational designs that enable Supply Chain Management (SCM) to be effective for the business.
Supply Chain industry leaders, therefore, continue to evolve. There are not many who have served as outstanding role models for new supply chain managers. There are, of course, legendary educators, consultants, and software leaders who are known for their innovations and teachings about supply chain leadership; however, we have to search to find true leaders who have either held CSCO or other senior executive positions and have moved the supply chain strategy and performance bar upwards for their respective companies.
My purpose here is to propose one person's view on Supply Chain leadership, and refer to personal examples of true leaders I have had the pleasure of working with and learning from. I hope these examples will motivate you to think of any exceptional leaders you have also been mentored by, as well as inspire you to become one yourself. As many have observed, we all know many excellent managers; what we lack are true leaders. The same phenomenon is true in SCM. For our profession to grow, and for SCM to reach its potential in every organization that makes, buys, moves, or sells a product, we need leaders that meet special criteria and lead by extraordinary principles.
PRECONDITIONS AND BEHAVIORS
First, let's acknowledge that there are indeed preconditions to Supply Chain leadership – intelligence, tolerance for change, desire to lead, and communications/people skills come to mind. Without these, it is difficult to imagine a leader who makes a positive difference (of course, there are examples of some without these who made a negative difference!).
We should also acknowledge that there are requisite behaviors – which comprise a longer list, but are equally important. This list would include leadership traits such as:
Participative decision making
Teaching and mentoring
Defining expectations and rewarding performance
Inspiring
Role modeling
Challenging assumptions and encouraging risk
Communicating convincingly
Projecting a high emotional intelligence (EQ)
Monitoring managers performance
Effective decision making
And likely others you will think of. Behaviors, or styles, will often make the difference between leaders and effective leaders. How a person leads others is how others typically will judge the leader – not only on the preconditions, but how these are conveyed and translated to everyday life.
A SUPPLY CHAIN LEADERSHIP MODEL
For our supply chain leadership model, I choose to adapt a McKinsey Leadership Project approach, referred to as the "five dimensions of leadership". I believe this framework is able to capture the essence of what true supply chain leaders are all about. These dimensions are broad, and are interrelated, and they are as follows:
Meaning – purpose, happiness, signature strengths
Engaging – voice, ownership, risk taking, adaptability
Connecting – sponsorship, reciprocity, inclusiveness, network
Positive Framing – self-awareness, learned optimism, moving on
Managing Energy – minimizing depletion, restoration, flow
Let's examine these in the context of supply chain leadership, note why they are important, and consider some personal examples.
MEANING is about finding one's strengths and putting them to work in the service of an inspiring purpose. It is the motivation that moves us. In the supply chain world, this has been especially important, as the definition of supply chain continues to elude even the best professionals. Even today we often hear people misuse the term, when they really mean Logistics, or some other component of SCM. Some use SCM when they mean Sourcing or Procurement. Still others use the term when they really mean Transportation, Distribution, or even Information Technology.
When the term was first used at Xerox in the early 80s, they were basically describing the order management and fulfillment process; in other words, the supply of a product to a customer in response to their order. We have come a long way since then; but, not everyone has marched together as SCM has evolved.
One of my special early mentors was Al Battaglia, who was President of Becton Dickinson medical products. Now deceased, he is a legend at BD and in the medical products industry, as he grapsed the full model of SCM before most anyone did. He led the development of SCM to a level way beyond the industry (we co-authored an article for CEO magazine on this, the first ever on SCM in that medium). Al brought strategic operations thinking to a business that before relied on good medical products but too few customer services. Further, he introduced what we consider today effective performance measures – on total supply chain costs, time and quality – and inventory metrics around value. Al later recruited Nick LaHowchic (see more on Nick below) to lead SCM, and Nick later went on to lead SCM at The Limited. Both Al and Nick transformed SCM to a competitive advantage for BD.
The point is that Al found his true passion, learned a great deal fast, and put that to work as a strong leader for business benefit, for his people's pride, and for growth for all stakeholders.
ENGAGING is about finding your voice, becoming self-reliant and confident by accepting opportunities and the inherent risks they bring, and collaborating with others. Oh, that term collaboration….it just will not go away. It is very interesting that some of the strongest supply chain "managers" are often those that do NOT collaborate; they believe that it takes too much time, that it can be left to others, or that they can just bark out orders because of their position and things will be better.
Another category of strong Supply Chain managers will collaborate well with their direct boss and with customers, but not with their own people or with others in the company. In other words, selective collaboration. We often find this culture or leadership style at companies where all are not in synch, misinformation is rampant, and decisions take way too long to be made.
Scott Flaig was the first COO at Dell Computer, though his title was EVP Global Operations. Michael Dell recognized early that his business model was so popular and growing so fast that he needed someone to design and lead its operational growth. Scott – as a strong consultant prior – knew that inclusion was the key to getting everyone at fast-growing Dell on the same page (more like onto an F-18 at that time), so he put in place collaboration methods that remain in place there. Sure, Scott was highly intelligent and competent, and confident and self-reliant, but so were so many others at Dell. Without Operational integration, the innovations would not work. Dell, of course, became the Supply Chain business model in the 1990s for all to emulate.
CONNECTING is similar, in that it is about identifying who can help you grow, building stronger relationships and personal networks, and increasing your sense of belonging. Supply Chain leaders are not 100% born, they are made…just as are other business or public leaders. A certain degree of the preconditions and behaviors are partly due to genetics, perhaps, but they also depend on building relationships that matter. Even the best leaders always thank someone for being their mentor, coach, or best friend they can talk to. True leaders do not lead alone; they lead through others, with others, and along with others.
One of my first admired leaders was Charlie Cotton, head of Logistics for Frito-Lay. Charlie is deceased, yet he remains legendary, not only at Frito-Lay but throughout the grocery products industry for his humility throughout his leadership career while he was developing most of the best practices and innovations in Logistics still in place today. Charlie would never take the credit for an idea or an innovation; rather, he would explain that it was due to his peers, his customers, his friends, etc. Strong leaders such as Ralph Drayer, now retired Chief Logistics Officer at Procter & Gamble, later extended much of Charlie's CPG/Retail innovations when he helped lead the Efficient Consumer Response industry-wide program.
POSITIVE FRAMING is about adopting a more constructive way to view your world, expand your horizons, and gain the resilience to move ahead even when bad things happen. What a timely principle! As we hopefully recover from the Great Depression, there are many stories being shared of despair and pessimism, not only by so many companies, but also by individuals who have been "downsized". How does a true leader really find the wherewithal to view the world positively and move ahead when so many bad things are happening?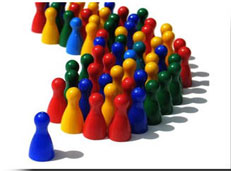 Another of my favorite Supply Chain leaders is Chris Munro, who has been CEO of a CD/DVD manufacturer, an Australian Transportation and Logistics Company, and more recently Roadlink, the drayage business owned by Fenway Partners. In each of these three positions, Chris has faced adversity and dealt with it in a positive manner, by framing the right strategy and rallying the teams around it.
I mentioned Nick LaHowchic earlier. Nick performed admirably at Becton Dickinson as President of its supply chain. He was next recruited to The Limited where he served 10 years or so as President of Limited Logistics, and EVP of The Limited Brands. The changes in the apparel industry were substantial over this period, as The Limited was being challenged by other brands on all fronts. Just as optimists frame their world positively, confident that they can manage the challenges and move their teams quickly to action, so did Nick lead The Limited through this change with high marks. Nick is well known and respected for his ability to gather the facts and act accordingly, even while leading a SC transformation.
MANAGING ENERGY is about knowing where your energy comes from, where it goes, and what you can do to manage it. Today's executives work hard: this is a given. But the best leaders know that work does not have to be exhausting. They understand the supply chain concept of "flow"; that is, when one is engaged so much in activities that you do not notice the passage of time, then productivity and satisfaction actually increase. And, these exceptional leaders are energized by this process.
Of course, this can be about setting the right priorities and working on them. But it is more than that. The best SCM leaders are not consumed by constant details and micromanaging processes; rather, they identify the conditions and situations that replenish their energy, and compare those to ones that sap it. One special action many such leaders have shared is to dedicate some time each day with zero distractions, to think about new ideas and innovative actions.
A true leader who exhibits this energy flow has made us all proud. LaVerne Council was a former SCM consulting partner of mine at E&Y; she then went to Dell where she led hundreds in the global IT business unit; then a few years ago she was recruited to J&J where she leads thousands as CIO for this Fortune 25 corporation. Can anyone point to three such positions in succession that require any more energy and managing your time effectively than these? LaVerne has been an extraordinary leader throughout her career and those who have had the pleasure of working with and for her know that she is special. She leads be example as well as with her relentless energy.
CONCLUDING REMARKS
The subject of what makes an exceptional leader continues to be explored, researched, and debated. As our SCM profession evolves, this question will heighten for us. The value of SCM is finally getting to the executive suites, and despite its perceived value during the Great Recession of being limited to cost reductions, it will again return to its potential value to enabling profitable growth. We need strong leaders to take it there, as SCM continues to be under appreciated and misapplied at so many companies.
Yes, it is once again an exciting time to be in a SC organization. If that organization is fortunate enough to have a leader who excels within this leadership model and framework, and has the preconditions and behaviors that come with exceptional leaders, the organization will the best opportunity to reach its full potential. And its people will be motivated, inspired, and committed to operational excellence and profitable growth. Isn't that what we all want and need going forward?
Gene Tyndall is also a vice president at Tompkins Associates.